The US locks up more people, per capita, than any other nation
In my recent reader survey, subscribers asked for more international content. So here is a terrific piece of analysis by the Prison Policy Initiative of the US prison system released on 14 March 2017. The American criminal justice system holds more than 2.3 million people in 1,719 state prisons, 102 federal prisons, 901 juvenile correctional facilities, 3,163 local jails, and 76 Indian Country jails as well as in military prisons, immigration detention facilities, civil commitment centers, and prisons in the U.S. territories.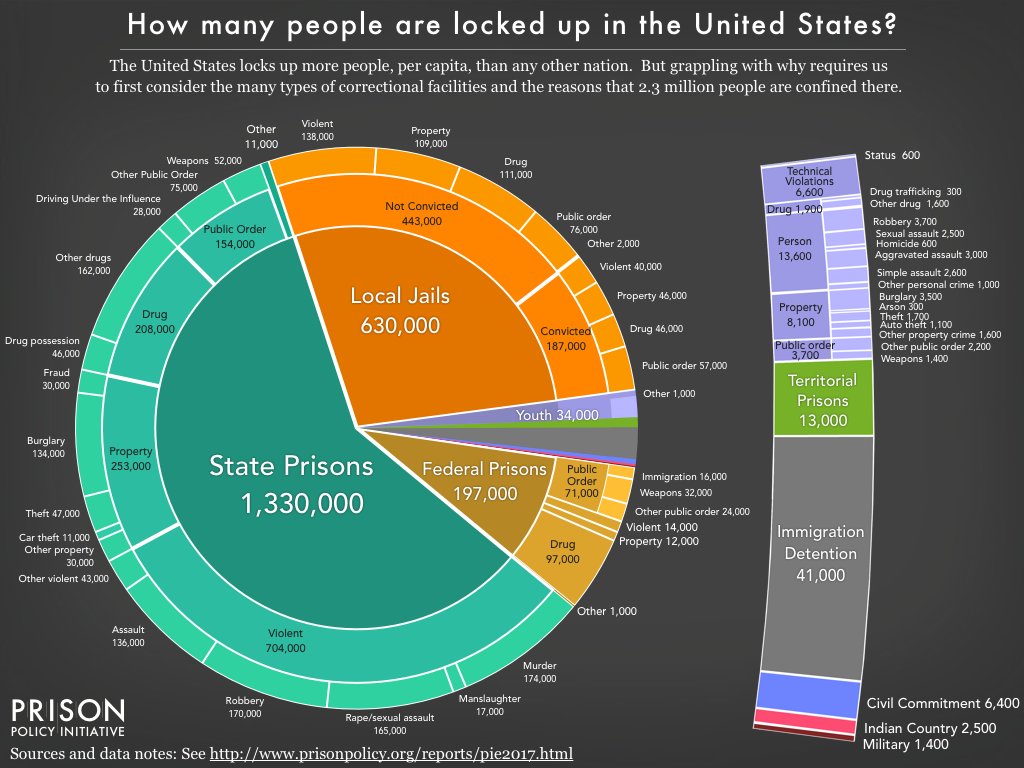 Enormous churn
While this pie chart provides a comprehensive snapshot, the graphic does not capture the enormous churn in and out of US correctional facilities and the far larger universe of people whose lives are affected by the criminal justice system. Every year, 641,000 people walk out of prison gates, but people go to jail over 11 million times each year.
Jail churn is particularly high because most people in jails have not been convicted. Some have just been arrested and will make bail in the next few hours or days, and others are too poor to make bail and must remain behind bars until their trial. Only a small number (187,000 on any given day) have been convicted, generally serving misdemeanors sentences under a year.
Incarceration for drug offences
The series of charts below show the huge impact that drug offences have on America's prison population, particularly at the federal level.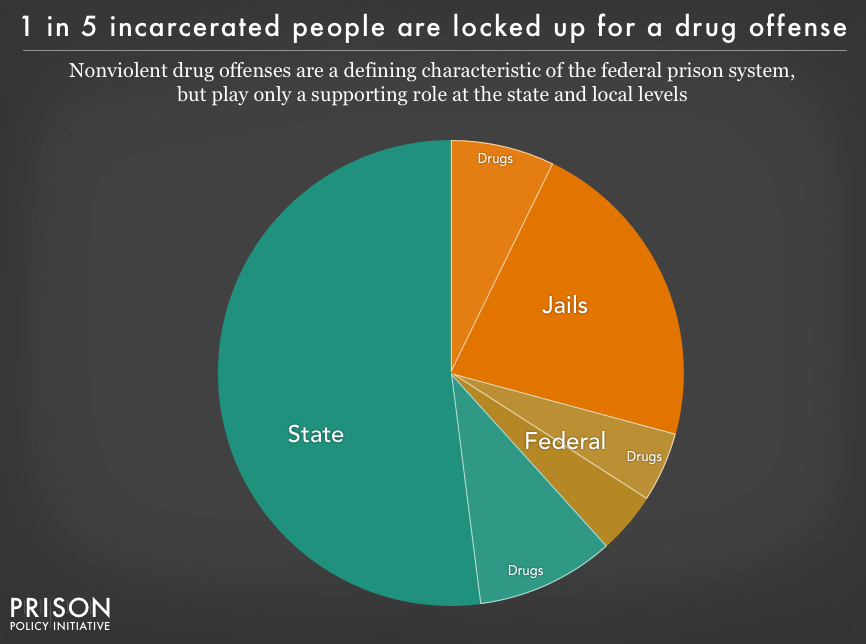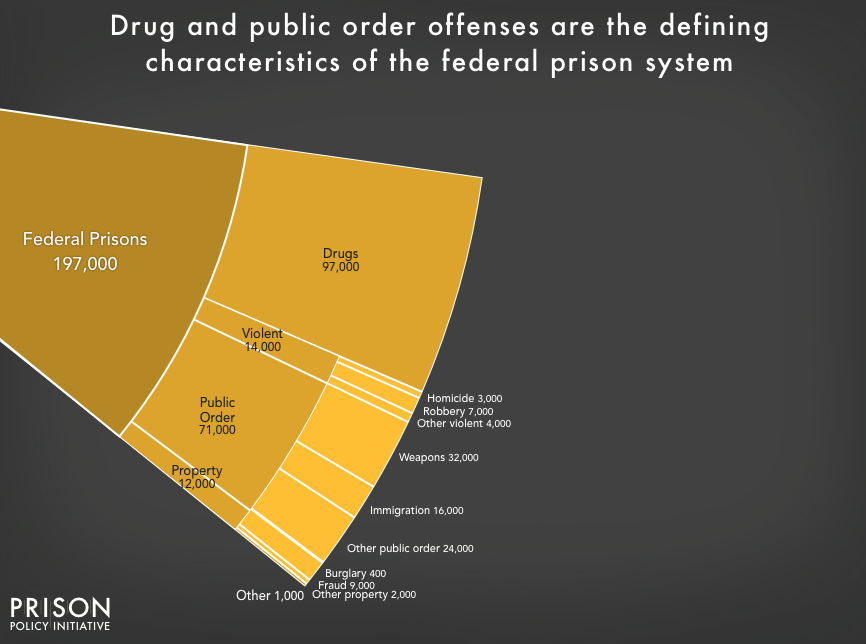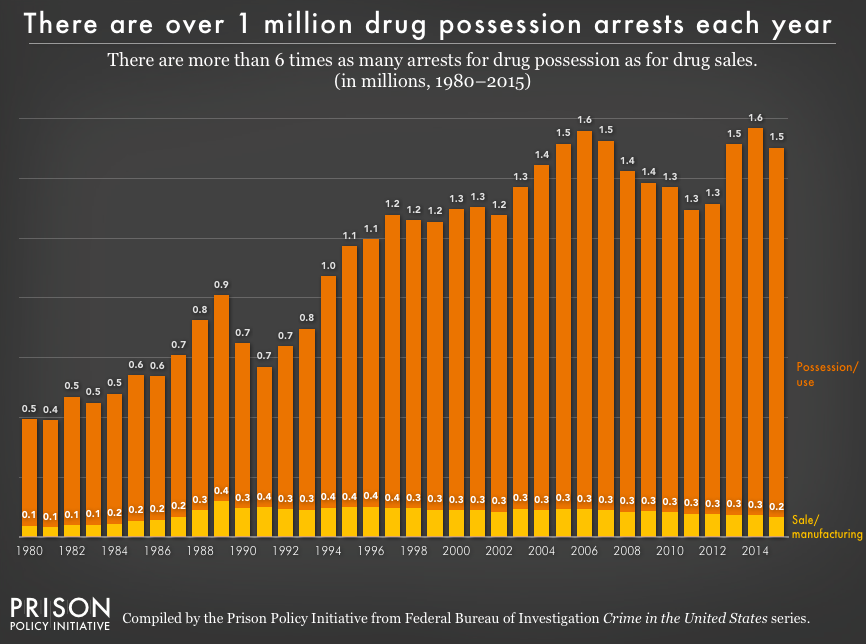 Youth imprisonment
This "whole pie" methodology also exposes some disturbing facts about the youth entrapped in our juvenile justice system: Too many are there for a "most serious offense" that is not even a crime. For example, there are almost 7,000 youth behind bars for "technical violations" of the requirements of their probation, rather than for a new offense. Further, 600 youth are behind bars for "status" offenses, which are "behaviors that are not law violations for adults, such as running away, truancy, and incorrigibility."
As you can see, 60% of young people are imprisoned for non-violent offences.

Racial disparities
It is unfortunately no surprise to see that Black people are over-represented and white people under-represented in US prisons.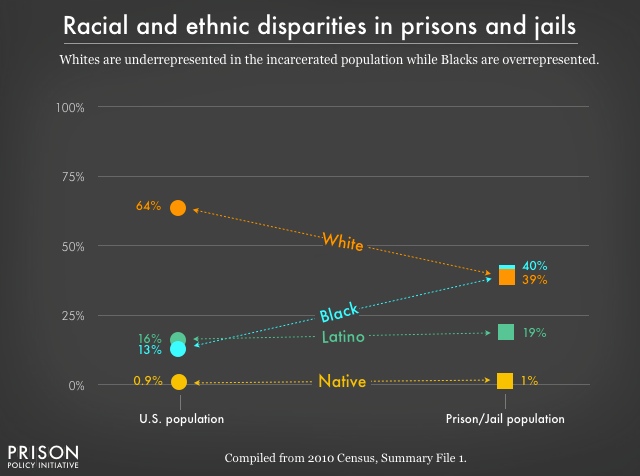 The whole justice system
Being locked up is just one piece of the larger pie of correctional control. There are another 840,000 people on parole  and a staggering 3.7 million people on probation. Particularly given the often onerous conditions of probation, policymakers should be cautious of "alternatives to incarceration" that can easily widen the net of criminalization to people who are not a threat to public safety.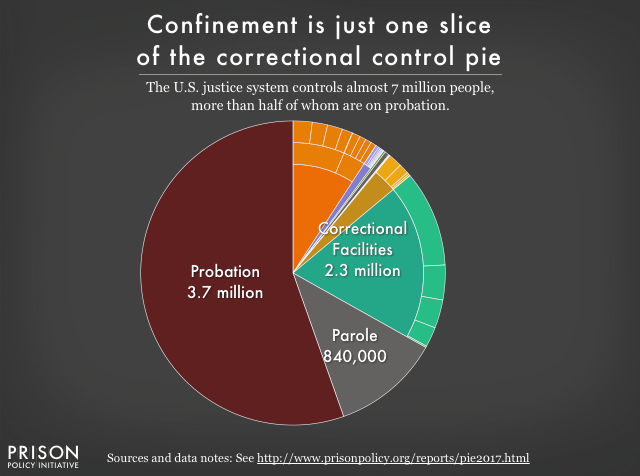 Implications
The value of this detailed analysis by the Prison Policy Initiative is that it gives a much better foundation for plotting strategy for criminal justice reform. For example, the data makes it clear that ending the War on Drugs will not alone end mass incarceration, but that the federal government and some states have effectively reduced their incarcerated populations by turning to drug policy reform. Looking at the "whole pie" also opens up other conversations about where reformers should focus their energies:
What is the role of the federal government in ending mass incarceration? The federal prison system is just a small slice of the total pie, but the federal government can certainly use its financial and ideological power to incentivise and illuminate better paths forward. At the same time, how can elected sheriffs, district attorneys, and judges slow the flow of people into the criminal justice system?
Are state officials and prosecutors willing to rethink both the War on Drugs and the reflexive policies that have served to increase both the odds of incarceration and length of stay for "violent" offenses?
Do policymakers and the public have the focus to confront the second largest slice of the pie: the thousands of locally administered jails? And does it even make sense to arrest millions of poor people each year for minor offenses, make them post money bail, and then lock them up when they can't afford to pay it? Will leaders be brave enough to redirect corrections spending to smarter investments like community-based drug treatment and job training?
Is it possible to implement reforms that both reduce the number of people incarcerated in the U.S. and the well-known racial and ethnic disparities in the criminal justice system?
You can follow @PrisonPolicy on Twitter.
All prison posts are kindly sponsored by Prison Consultants Limited who offer a complete service from arrest to release for anyone facing prison and their family. Prison Consultants have no editorial influence on the contents of this site.